ARRL Teachers Institute on Wireless Technology
As part of our educational outreach to schools through our Education & Technology Program, each summer the ARRL offers multiple sessions of the Teachers Institute on Wireless Technology. The Teachers Institute is an expenses-paid professional development program filled with lectures, hands-on activities, and demonstrations that are intended to provide teachers with tools and strategies to introduce basic electronics, radio science, satellite communications, Amateur Radio, weather science, microcontrollers, and electronic sensors to their students. The curriculum is designed for motivated teachers and other school staff who want to learn more about wireless technology and bring that knowledge to their students.
Summer 2022 Applications and Brochure
"Let's Solve This."
Not too long ago ExxonMobil launched a TV ad campaign titled "Let's Solve This" with the focus on the need for more investment in teacher training to improve US student performance. The "Let's Solve This" campaign cites research that shows that students that are taught by teachers with a deeper understanding of the subject out-perform those students taught by less capable teachers. Therefore, "we need to invest in our teachers as a means to improved student performance."   
There has been a resurgence and aggressive emphasis upon STEM education in response to numerous economic challenges we face from our overseas economic competitors in high technology industries. Now it is being recognized that STEM instruction needs to focus on the connection between science and mathematics and engineering and technology, rather than a more compartmentalized focus on these content areas independently. It is the teacher's role to make these connections for students. To do so, teachers need to know the science and math content and understand the technologies in use in sufficient detail to make the connections for their students…thus, now the recognition of the core problem identified in the "Let's Solve This" campaign. 
The ARRL ETP has identified this problem and has been doing what we can do to address it by offering the Teachers Institute (TI) over the past 10 years. From the first pilot TI conducted in 2004, and each year thereafter, this in-service training program supported entirely by generous philanthropic donations, continues to evolve and flourish.
The Teachers Institute is only the beginning of a participant's exploration with wireless technology. The goal of the TI program is to equip each schoolteacher with necessary foundational knowledge, and through hands-on learning, generate the inspiration for teachers to continue to explore wireless technology and adapt relevant content into their classroom instruction.
This training serves as excellent foundational preparation for schoolteachers interested in including classroom learning about radio communications and wireless technology as part of student preparation for participation in the Amateur Radio on the International Space Station (ARISS) program.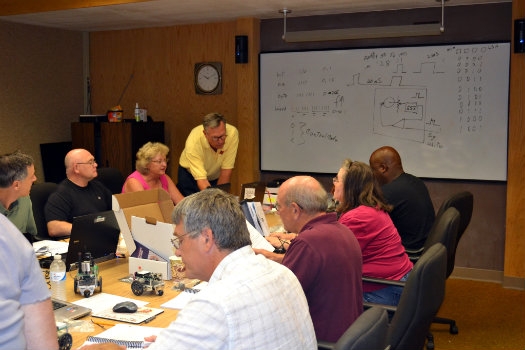 Cost: Teachers Institute opportunities are virtually free for the participants. The grant to attend a TI covers transportation, hotel, a modest per-diem to cover meals, instructional resources for the electronics, microcontroller, and robotics segments of the course, and a resource library of relevant ARRL publications. There is a $100 enrollment fee to attend Teachers Institute.

Travel and reimbursement guidelines.
Graduate credits: Graduate credits are available through Fresno Pacific University upon completion of the TI-1 or TI-2 programs. These credits can be used to satisfy professional growth requirements to maintain teaching credentials. The class is self-contained and participants are expected to be able to complete all requirements during the class time. Graduate credit forms may then be requested at the end of the Teachers Institute.
To qualify, applicants must be an active schoolteacher at an elementary, middle, high school or at a college or university, or in a leadership or enrichment instruction role in an after-school or collective homeschool program. An Amateur Radio license is NOT required for the introductory workshop (TI-1) but IS required for the advanced TI-2 program.